Our Caulking Services in Atlanta, GA, Recovered the Beauty of This Travertine Shower
July 17, 2023
Every homeowner knows that maintaining their house in perfect condition it is not easy. It is even more difficult if they do not know the proper cleaning methods and products they should be using. Plus, it is necessary to pay attention to every single detail, even the small ones, and a large majority of people do not have time for that in their busy lives. Something similar happened with our clients—a young married couple who lived in Atlanta, GA.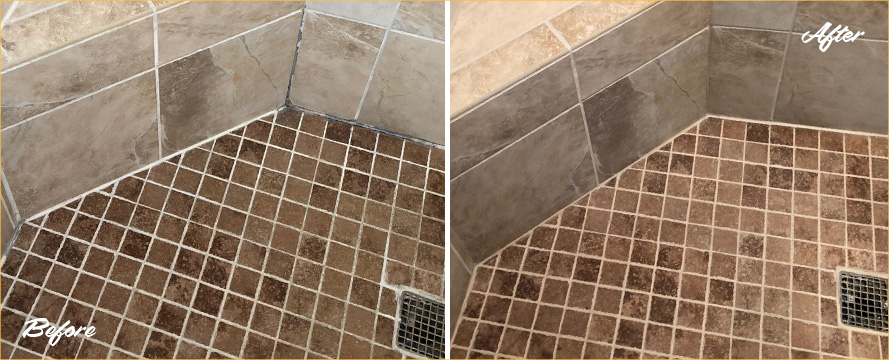 The couple bought a house less than a year ago knowing that some rooms and features had some work to be done, especially in their travertine shower. There was soap residue on the lower walls and floor but since they were always so busy, they didn't have time to dedicate and focus on cleaning the shower. Nevertheless, since they moved in, the couple had a cleaning plan that they fulfilled on weekends. The woman always went out once in a while to buy cleaning products to help with the cleaning routine. She and her husband cleaned room by room on weekends but, as mentioned, paying attention to every single detail is not easy, and using incorrect cleaning methods and products would have its consequences. For that reason, the married couple needed to hire
caulking services in Atlanta, GA
.
One weekend, while the woman was in the middle of the cleaning routine, she noticed that more and more soap residue was building up in the bathroom shower, so she decided to do something about it. That same day, she went to the nearest supermarket to buy more cleaning products to solve the problem by herself. To do so, the homeowner decided to apply some DIY methods she found online. However, the natural stone still had the same amount of soap residue, there was no difference at all. The woman thought that maybe more than one session was needed to see positive results, so she decided to give it another try next day and if it was necessary to try for a couple of weekends, she would do it.
After weeks of trying, the woman talked to her husband about hiring professional stone cleaners to solve the persistent problem in the bathroom. The man convinced her to give it one last try using different methods. The wife did, but nothing changed—the stubborn soap residue remained on the travertine shower. In fact, after the last session she was even more worried because she also noticed that the caulk was showing mold and started to give way to water. The homeowner realized that no matter the method she used, there was no change. She needed professional help to restore her shower.
The couple started to look for a reliable company to solve their problematic natural shower and since the wife had a few days off from work coming up, they wanted to find professional help as soon as possible. The woman received a call from one of her friends who found out that she was looking for stone cleaners. He mentioned that he hired Sir Grout Atlanta to restore his natural stone living room floor and convinced her that we were was she was looking for. Her friend also mentioned that the service was incredible, and the outcome was amazing. The wife, trusting in her friend's judgement, searched for our website online, and found us on the top results of her favorite search engine. There, she could see several pictures of our previous work we had done as well as a lot of testimonials from satisfied clients. After this, she was totally convinced that we were the perfect company to restore her travertine shower, so she called to schedule a free, in-home evaluation.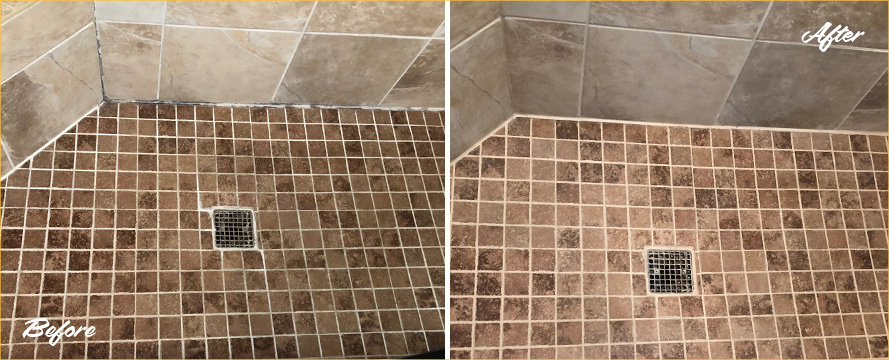 On the assessment day, our team of professionals arrived at the house ready to see what the problem was and offer the best possible solution. The woman invited them to see the travertine shower where the experts noticed the soap residue on the walls and floor, but also noticed the moldy caulk. They told her that she called just in time because the water was starting to get into the expansion joints, and the damage would be huge. The technicians told her that they needed to clean the surfaces, recaulk the expansion joints, and then ColorSeal in order for them to eliminate the mold. These processes would also return the travertine shower to its original beauty. The client agreed right away. She mentioned that she just wanted to see her natural stone shower looking beautiful, so they scheduled a date to get the job done.
A few days later, our team of specialists came back to the house ready to completely restore the shower. The first step was applying a stone cleaner along with a high-speed gentle scrubber to deep clean it. They even used a vapor steam cleaner for the hard-to-reach areas and to get rid of the mold.
Once the cleaning process was finished, it was time to re-caulk the expansion joints. Our experts used our proprietary Epoxy Grout to do so and explained to the client that this product was known for its durability and helps to prevent future water damage.
The travertine shower was cleaned and re-caulked. To finish the process, we applied our exclusive sealant, ColorSeal, over the walls and floor. Our specialists explained that ColorSeal was an extremely durable water-based sealant that helps to protect the grout lines, making them resistant to stains, water, mold and mildew. Moreover, we stated that this product comes in a variety of colors. The woman chose a color to match with the travertine.
The job was done, and our professionals invited the homeowner to see the results. She was amazed to see her natural stone shower looking so beautiful. She took several photos to show them to her husband. The client thanked our team for the incredible service and mentioned that she would recommend us to anyone who had similar issues.
Before leaving, the experts gave her some recommendations in order to maintain the shower in perfect condition. First, we told her to stay away from acidic cleaners because they damage the sealant. Instead, she should use specialized stone cleaners for her cleaning routines. At last, they also told her that to ensure the natural stone remains in good condition, professional maintenance is necessary every two years.
If you have a natural stone shower and you've noticed that soap residue or mold is starting to accumulate, it is time to give us a call! Sir Grout Atlanta has the best solution for you. Contact us by calling
(678) 251-2140
or fill out the "Request a Quote" form on this page to set up a date for an in-home evaluation, for free. For more information about our services. Also, don't forget to subscribe to our
newsletter
to keep up to date with our latest promotions.
If you found this article helpful then let us know in the comments section below. Likewise, feel free to share it using the share options below. Want us to cover another topic of your interest pertaining to Hard Surface Restoration? If so, then like us and follow us on social media, and post to any of our social media profiles the topic you'd like us to discuss:
Facebook Sir Grout Atlanta
,
Instagram @sirgroutatlanta
, and
Sir Grout Atlanta
.
Categories:
Tile
,
Grout
,
Travertine
,
Cleaning
,
Sealing
,
Caulking
,
Mold Removal
,
Residential
,
Showers
,
Bathrooms
,
Indoors