Welcome to the honing category for the Sir Grout Atlanta Blog. Here you'll find blog posts related to stone and tile surfaces that we've restored. See the amazing transformations with the included before and after pictures. Feel free to share and leave your comments.
Published June 26, 2018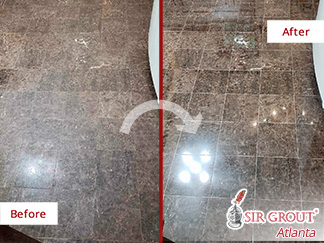 Our Stone Polishing Professionals in Marietta, GA, Brought Back the Luster and Beauty to This Dull Marble Floor
Marble is stylish, durable, and long lasting. One of the most popular uses of marble is for flooring because it adds luxury and class to any house with its shiny radiance.
READ MORE