Welcome to the outdoors category for the Sir Grout Atlanta Blog. Here you'll find blog posts related to outdoor areas with stone, tile, and wood surfaces that we've restored. See the amazing transformations with the included before and after pictures. Feel free to share and leave your comments.
Published November 24, 2021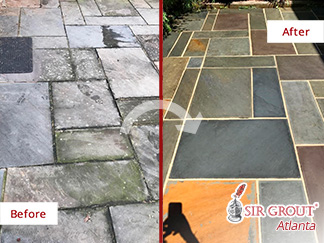 The Best Woodstock Stone Sealing Service Fully Restored This Slate Paver to Its Best Look
Our Woodstock stone sealing crew brought a complete transformation to this exterior slate despite months worth of damage and dirt buildup. The end result made the entire floor look brand new and brought much-needed peace of mind to its owners.
READ MORE
Published October 19, 2016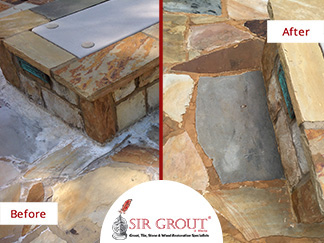 White Residue on Your Flagstone? Here's How a Stone Cleaning Service in Milton, GA Made It Disappear
This flagstone pool deck in Milton, GA was, without a doubt, the most amazing feature of this home. Its owners had bought the house several years ago and were immediately sold on the house when they saw the gorgeous flagstone pool deck.
READ MORE