Learn How Our Highly Experienced Tile and Grout Cleaners in Cumming, GA, Wiped out the Stubborn Mold from This Shower
August 11, 2023
Mold is a very stubborn problem that many homeowners face. This type of aerobic fungal microorganism typically grows on organic matter and feeds on it. The reason why mold is so stubborn is that its spores are usually found floating in the air. As the spores travel, they attach to damp surfaces and immediately start spreading in as little as 24 to 48 hours, breaking down the material they feed on as they multiply. Mold, on top of having an unsightly appearance, can cause health problems; therefore, as soon as it starts growing indoors, especially in bathrooms, it is crucial to immediately try to get rid of it. The best way to do so when all other methods fail is a professional tile and grout cleaning service. After a recommendation from their relatives, these homeowners scheduled a free in-home consultation with our
tile and grout cleaners in Cumming, GA
, to assess the extent of this problem.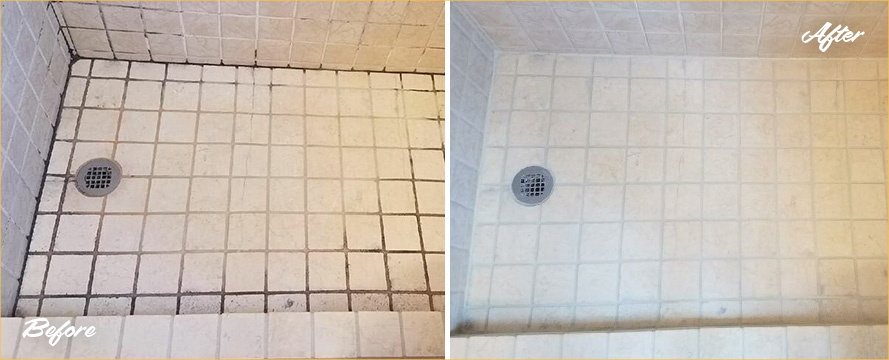 Why is mold so difficult to eradicate?
On the day of the service, our clients asked us to explain the characteristics of mold, so that they could understand why it had been so difficult to get rid of. We informed them that there are many types of mold, and what all of them have in common is the conditions they need to thrive. The three main being: continuous moisture, adequate temperature, and a food source —usually one that offers organic matter. These conditions depend on the climate in which you live, the humidity indoors, the material of the affected surfaces (and the possible food source they may offer to mold), lighting (preferably dimmed), and ventilation (minimal air circulation). If the conditions are right, mold grows into colonies and that's when mycotoxin levels can become high. How toxic these components are, is often related to the environmental conditions under which the fungus is growing, as well as on the resources of the host organism. Mycotoxins grow because mold uses them as an attack mechanism to weaken the host and thus improve its chances of proliferating.
Check if the conditions in your home are favoring mold growth!
After explaining this information about the origin and formation of mold, our clients realized that some of the conditions in their house, and specifically the bathroom, had been fueling the proliferation of this problem. They acknowledged that the constant moisture in the bathroom was probably the biggest cause of the mold. Right after each shower, our clients closed the shower curtain and the bathroom door. They didn't know that this was harmful and fostered mold growth. Apart from this, the temperature that the bathroom maintained was rather warm from hot showers; this only raised the levels of moisture and condensation.
Failed attempts
For a long time, our clients tried to combat the recurring mold with several methods, but they couldn't get rid of it. At first, they tried the popular DIY method of treating the surface with vinegar, which made the problem disappear for a while. Then, they called a company to tackle this problem when it returned, and the work they did was effective for a longer period of time. However, after a while, it came back! The company did a proper cleaning service, but did not attack one of the underlying issues, which was the cementitious grout between the tiles. This type of grout is porous, therefore, absorbs moisture.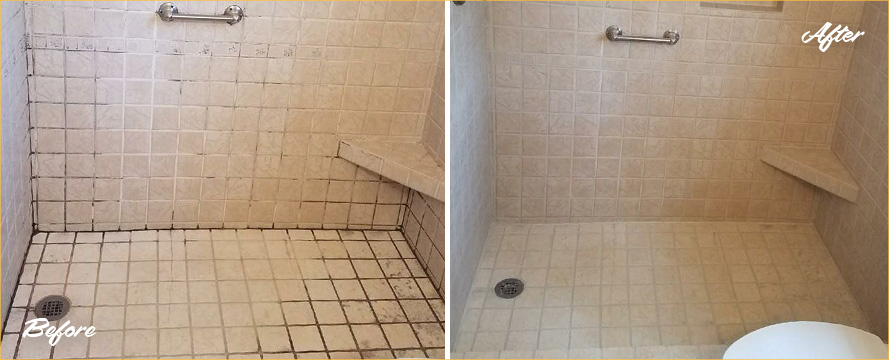 Eliminating the mold
To finally put a stop to the situation, we did several services on this shower floor and tiles. First, we did a deep cleaning with a high-speed scrubbing machine and steam vapor, which is the best way to remove stubborn mold. Once this was done away with, we applied our proprietary product, ColorSeal, to the shower's grout, to seal and recolor it. ColorSeal is guaranteed to protect the grout for a long time and makes it waterproof, stainproof, and easy to clean. Then, we did epoxy caulking and epoxy ColorSeal on the shower expansion joints. For this, we used epoxy caulk, which is much more resistant than regular caulk and will keep moisture away. Additionally, we removed two cracked tiles carefully, re-grouted the area where they were placed, and sealed them with epoxy sealant for maximum protection.
Finally, free of mold! Now, how can you maintain the results?
After our services, this bathroom looked fresh and perfectly clean. Our clients were delighted to see that the stubborn mold that they hadn't been able to remove was finally gone. If well-taken care of, this service is meant to keep mold at bay for many months. All the client must do is follow a few care tips. Among, the three main are:
Proper ventilation:
mold thrives in areas with little or no ventilation because they trap moisture. For areas in your house that fill with moist air like bathrooms, it is a good idea to open the windows for some time and/or keep a fan or extractor fan to circulate the air and remove excess moisture.
Periodic check-up for leaks and blockages:
there may be hidden leaks that contribute to mold growth underneath tiles or behind baseboards, for instance. Keep track of these possible issues in your house, and act on them as soon as you can. In bathrooms, do not leave water to sit anywhere, especially in the basin, bathtub, or shower.
Proper cleaning:
mold feeds on organic matter and decomposes it, so any material that contains organic matter like paper, wood, or the waste in bathrooms can be food for fungi. Dust can also encourage mold growth. Hence, it is important to do regular cleaning.
There are other resources that can aid the prevention of mold. For example, the use of mold resistant paint, grout, and caulking. Epoxy ones are waterproof, whereas traditional ones are more porous and might accumulate moisture if not ventilated well. Other seemingly small and unimportant details like the shower curtain can contribute to mold formation as well. We advised these clients to check that the curtain is fully strained after a shower, and to keep it clean. All shampoo and soap bottles that are kept in the shower, sit in leftover water and foster the growth of mold, so we encouraged our clients to use shower/bathroom organizers or avoid this problem.
Allow our experts to help you do away with mold!
If you have been trying to fight off this recurring issue of mold, we have the best solution for you. Our tile and grout cleaners are ready to apply their procedures to achieve long-lasting eradication of mold and mildew on hard surfaces. Do not hesitate to call us at
(678) 251-2140
, or fill our online form for a free in-home consultation and subscribe to our
newsletter
for the best information and tips about the care of your hard surfaces.
If you found this article helpful then let us know in the comments section below. Likewise, feel free to share it using the share options below. Want us to cover another topic of your interest pertaining to Hard Surface Restoration? If so, then like us and follow us on social media, and post to any of our social media profiles the topic you'd like us to discuss:
Facebook Sir Grout Atlanta
,
Instagram @sirgroutatlanta
, and
Sir Grout Atlanta
.
Categories:
Tile
,
Grout
,
Cleaning
,
Sealing
,
Caulking
,
Regrouting
,
Grout Repair
,
Mold Removal
,
Residential
,
Showers
,
Bathrooms
,
Indoors