Impressive Results: Our Tile Sealing Restoration in Alpharetta, GA Revived This Broken Floor
May 23, 2018
Tile is a fantastic flooring choice. It not only looks clean and elegant, its beauty and allure lasts for a very long time when it is maintained properly. Much like hardwood, tile has a timeless appeal and is suitable for use in all locations. Nonetheless, it is not immune to damage from external agents or daily wear and tear. It requires grout, a very porous mixture that absorbs dirt, grime, and soap scum easily. It also needs proper maintenance. While tile can withstand heavy foot traffic, it can be easily chipped or cracked if something heavy is dropped on it, and the repair is not so simple for the average homeowner. Furthermore, when tiles are unsealed, they are vulnerable to all sorts of harm from the environment, therefore, they should be sealed immediately. The best choice is to hire a professional
tile sealing service in Alpharetta, GA
.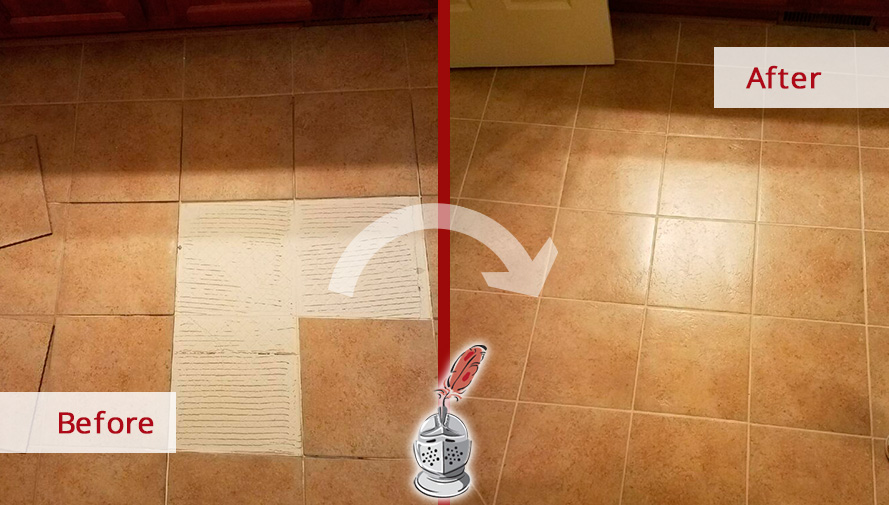 A married couple from Alpharetta, GA was having some issues with their kitchen's tile floor. One day, the husband, who was a gym trainer, had some equipment sent to their home. While moving some heavy dumbbells from the package, one of them fell on the floor and cracked some tiles. Due to the weight of the object, the impact caused severe damage and replacement was necessary. After the incident, they checked the kitchen's floor and noticed the rest of the tiles looked dull and the grout lines were dirty and muddy. The couple got worried because they thought the entire tile floor would have to be replaced. Concerned with this situation, they began discussing and weighing their options, looking for solutions.
The next day, they began searching online for methods to replace tiles by themselves. Unfortunately, they discovered that tiles are one of the most difficult surfaces to install. It takes a skilled hand to make the floor look its best. Replacement was a costly, time-consuming solution and the couple was in a bind.
Luckily, one of their friends, a former Sir Grout Atlanta client, came to visit them and saw the problem they were facing. He soon told the couple how we restored his plank floor with our tile sealing service. He recommended checking out our website because we could solve their problem. They went and carefully browsed our "Before and After" gallery and read all the testimonials from previous clients. All the positive feedback we'd received over the years, as well as his friend's recommendation, convinced them we had the solution for their problem. They decided to give us a call to schedule a free in-home evaluation.
We arrived on the appointed date for the floor's inspection and to offer an effective solution. After the greetings and introductions, we began the assessment. The cracked tiles were noticeable at first glance, and they were beyond repair. Fortunately, only a few tiles were severely damaged. The grout lines, on the other hand, were full of dirt, grime, and soap scum. This was caused by the usage of improper cleaning products and the usual foot traffic. The rest of the tiles were dim and lacked sealant, giving the floor a lackluster appearance. We explained that sealing the tiles and grout is important because it not only makes the surface look better, it protects it from future damage.
We offered the couple a tile sealing service to restore the dull tiles, clean, and replace the old, dirty grout using our advanced products and techniques. We would change the cracked and broken tiles with new ones and seal them using our top of the line ColorSeal. Our high level sealant provides protection against stains, dirt, mold, and mildew all while enhancing the look of the surface. We assured the couple that replacing the entire floor would not be necessary because our experienced procedure and our high quality products are guaranteed to restore their floor and ensure long lasting, easy to keep results. They were relieved to hear this and immediately agreed to set up a date for the job.
A few days later, we returned to our clients' house ready to begin the floor's restoration. It was going to be a multi stage process that required painstaking skill and expertise. We started by replacing the few tiles that were cracked, installing new ones that matched the existing choice of the owner. When this was done, we proceeded to clean the tiles using our top quality, pH-neutral, and safe for the surface tile and grout cleaner. Using a high speed, gentle scrubber, we made sure the entire floor was completely clean and spotless. Next, we thoroughly replaced the old, cracked, and muddy grout with our proprietary grout, a top-notch product that is designed to endure the hardships of the environment. This product is resilient against external agents.
Once this was done, we proceeded to seal the grout lines with our state-of the-art ColorSeal. Our exclusive and unique sealant not only shields the grout against water, stains, mold, and mildew, it also gives the lines a brand-new look using the color desired by the clients. We finished by buffing the tiles with our TileArmor, an exceptional, water-based, non-toxic product built to grant an extra layer of protection and enhance the natural beauty of the tile. The buffed tiles would be easier and faster to clean in the future.
When we finished the process, the floor regained its natural beauty, the tiles had been restored, and the grout lines looked clean and refreshed. There were no cracked or dull tiles and the entire floor had a shiny, gorgeous elegance. We had successfully renewed the charm of their kitchen's floor.
We invited the couple to see the results of our work. They couldn't believe how good it looked. They thought that level of restoration was not possible without undergoing a full tile replacement and they were relieved we were able to achieve such an outcome with our skillful procedures. After thanking us, they stated that from that point on, they would recommend Sir Grout Atlanta to all their friends, family, and neighbors. We provide our clients long lasting results, and we assured them that our top tier products and techniques are guaranteed to make cleaning routines easy and brief.
Before leaving, we took time to train our clients on how to perform proper maintenance on their restored surface and we gave them some recommendations and suggestions for their cleaning routines.
We Recommended:
Using pH-neutral, soap free cleaner, which are safe for the tiles and grout. They don't leave sticky residue and don't need to be rinsed. Soap-based and acidic cleaners, on the other hand, should be avoided. They leave a film that is harmful for the grout lines and promotes fungi growth.
Keeping the surface dry and well ventilated. Remove any spill from the floor and don't let water or cleaner residue linger for long periods of time. When drying the surface, use a towel or a terry cloth to prevent scratches and avoid using steel wools or other abrasive tools.
Never using a dirty mop to clean the floor and don't rinse it in the cleaning solution because this only leads to grime build-up. Also, our sealant makes it easier to clean preventing scratches from excessive scrubbing.
Our top of the line products and techniques and these easy to follow steps would keep the surface looking spotless and pristine for a long time.
Are you currently looking for professional assistance to restore your tile floor? Our tile sealing and cleaning services are the best choice for you. Sir Grout Atlanta provides experienced and skillful service that will make your floor shine again. As a leading company in the hard surface restoration industry, we offer the most advanced techniques to help you with your problem. Don't hesitate to contact us by calling
(678) 251-2140
or by filling out our "Request a Quote" form for a free in-home consultation. We will be happy to attend you. Don't forget to subscribe to our
newsletter
to receive our latest info and promotions.
If you found this article helpful then let us know in the comments section below. Likewise, feel free to share it using the share options below. Want us to cover another topic of your interest pertaining to Hard Surface Restoration? If so, then like us and follow us on social media, and post to any of our social media profiles the topic you'd like us to discuss:
Facebook Sir Grout Atlanta
,
Instagram @sirgroutatlanta
, and
Sir Grout Atlanta
.