This Bathroom Floor in Marietta, GA, Had a Totally New Look after a Grout Cleaning and Sealing Job
April 13, 2017
Having a white and spotless bathroom is any homeowner's dream, as white symbolizes purity and cleanliness. On the other hand, the worst nightmare for any homeowner is to have a bathroom that looks dirty even after putting a lot of effort into regularly cleaning it. That was what happened to this homeowner from Marietta. No matter what he did, or the products he used, his bathroom still looked dirty. He discussed the bathroom's condition and the options they had with his wife. After a thorough talk, they decided they needed to put their bathroom in professional hands. So, they went online and searched for a
grout cleaning company in Marietta
. They quickly found us, and after browsing our website and reviewing our clients' testimonials, they decided to give us a call and ask for a free evaluation.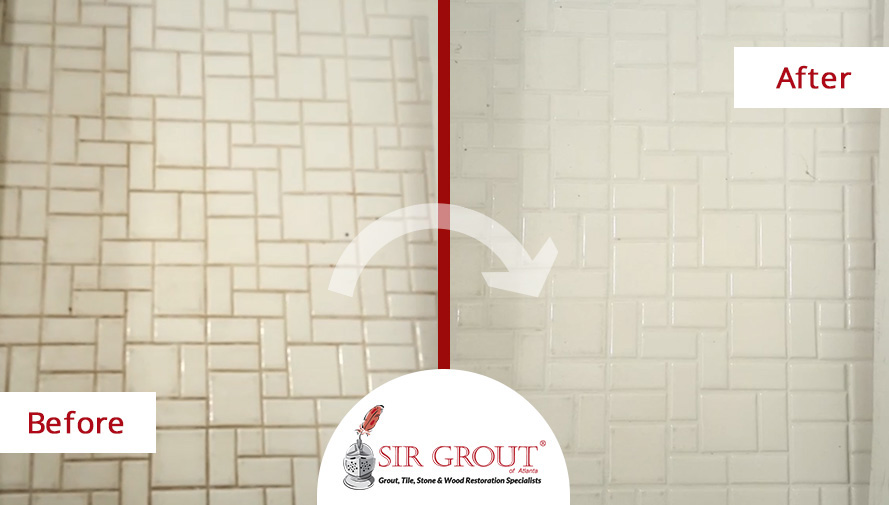 When our team arrived at the home, they first did an assessment of the floor's condition and then decided what needed to be done. The grout was so deteriorated and had such a blackish color that grout cleaning alone wouldn't be enough to restore it.
Grout sealing
was also needed to protect the grout and give it a color that matched the tiles. The homeowners were relieved to learn that their bathroom could be saved and did not need remodeling.
Our team first applied our special tile and grout cleaner and deep cleaned the floor with a gentle, high-speed scrubber. They also used vapor steam cleaning to remove the mold and mildew. Then we stripped the floor and prepped the grout with a grout saw to get it ready for our Clean & ColorSeal process. We used our Mist ColorSeal to match the color of the tile. ColorSeal is our proprietary sealer that will recolor your grout while making it stain-, water-, mold-, and mildew-resistant. This managed to bring back the lovely appearance of their old floor.
When the clients saw the results, they were amazed to see that their floor looked just like it originally did. They couldn't believe what they were seeing. No one would be able to tell that their bathroom's tiles were 35 years old. All the homeowner's husband could say was, "why didn't I do this years ago?" He thanked us and told us that if he needed any restoration services in the future, he would surely call us. He also posted the pictures on his Facebook and Instagram accounts with the caption: "Take a look at my new bathroom!" He was so excited about the look of his bathroom that he wanted everyone to see it, and what better way to do that than by posting the results on social media?
Before we left, we told him that to ensure this treatment has a long-lasting effect, he needed to use pH-neutral cleaning products to prevent damage to the grout lines, as some store-bought products can make tiles and grout more susceptible to stains and dirt buildup. We also told him he should never let the floors air dry with cleaning products or dirty water on them, and that the floors should always be wiped dry to ensure grout lines and tiles remain clean.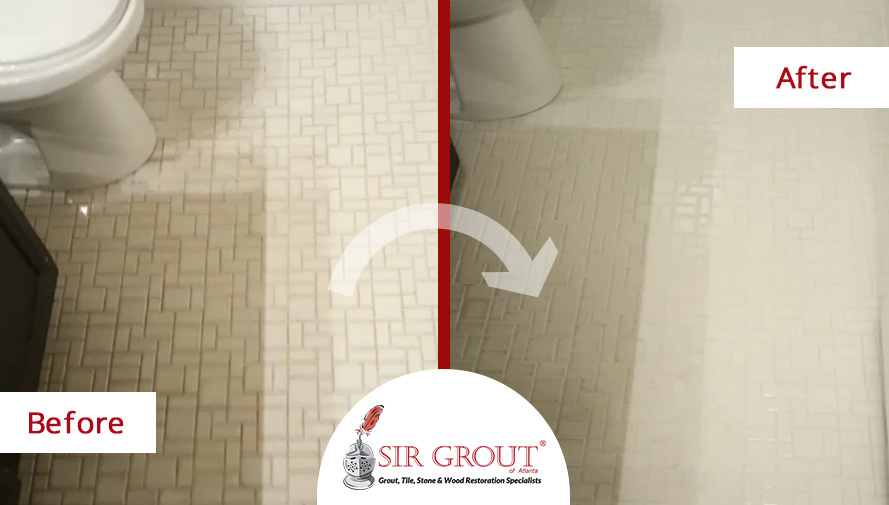 If your grout is deteriorated or has a blackish color and needs an extreme makeover like the one in the picture above, don't despair. Sir Grout Atlanta's professionals will restore your hard surfaces and give you easy-to-follow recommendations to prevent damage from happening again. Call us at
(678) 251-2140
or fill out the "Request a Quote" form to set up an appointment for a free evaluation. If you want to follow our work and get information about our services, products, and promotions, find us on Facebook as
Sir Grout Atlanta
, on
Instagram @SirGrout
, and follow our account on
Twitter @SGAtlantaGA
.