Property Managers: Here's How a Grout Cleaning Service Helped Seal the Deal on 5 Office Buildings in Alpharetta, GA
September 30, 2016
Image is everything when it comes to commercial properties. Property managers are constantly thinking of ways to boost the value of their commercial property and make it more appealing. One of the ways property managers do this is by improving flooring, which is often overlooked in favor of other improvements, such as new wallpaper, paint, landscaping, and décor. Flooring can be customized to be visually appealing, and its cleanliness plays a big role in this as well. Dirty tiles and grout lines can detract any client from leasing or buying a property. This is why property managers have begun to understand the value of improving their property's hard surfaces.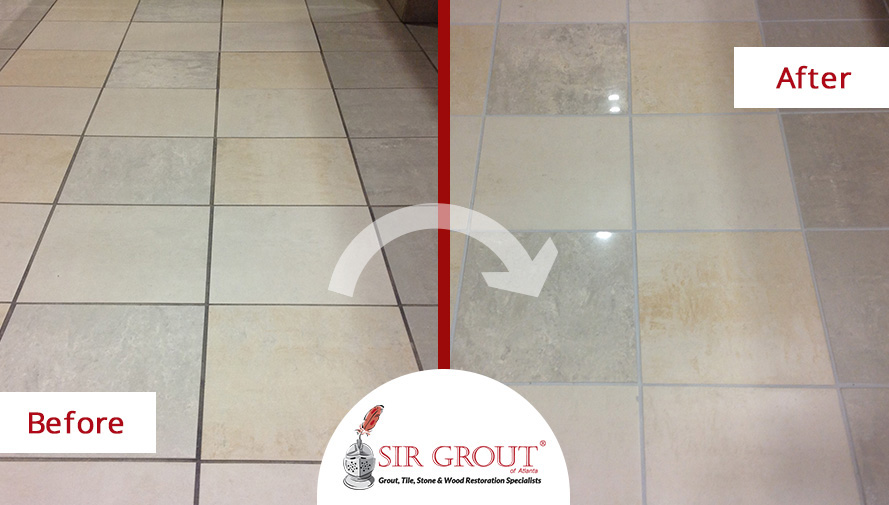 Not long ago, we received a call from a property manager who wanted to boost the value of 5 office buildings she was preparing for sale by renewing the floors. She found us while searching for
Alpharetta grout cleaning
services online, and after seeing pictures from jobs we had done for other commercial properties, she decided to set up an appointment with our team of hard surface restoration specialists.
When our team arrived at the office building they would be working on, they performed a thorough inspection of the surfaces. The property manager told them she wanted to enhance the appearance of the floors, specifically the bathroom and hallway floor. Our experts first assessed the condition of the hallway, which had noticeably dark grout lines due to dirt buildup, which made the surrounding tiles look unappealing. They then proceeded to take a look at the bathroom floor. The team told the property manager that both floors needed to be deeply cleaned so then they could seal and recolor the grout lines. This would not only make the floor look brand new, but would also ensure a long-lasting, spotless appearance, since the grout lines would be protected against contaminants.
A few days later, our team returned to perform the extensive service. They started by deep cleaning the hallway and bathroom floor with a pH-neutral cleaner and a high-speed scrubber. This process allowed them to extract the dirt that had built up on the tiles and grout lines to give them a fresher look. However, the real transformation was yet to happen. After the team finished sprucing up the floor, they applied our proprietary ColorSeal to the grout lines. This thick, water-based, acrylic sealer closes off the grout's pores and recolors the grout lines in any shade the customer wants. In this case, the property manager decided that a light shade complemented the tiles best.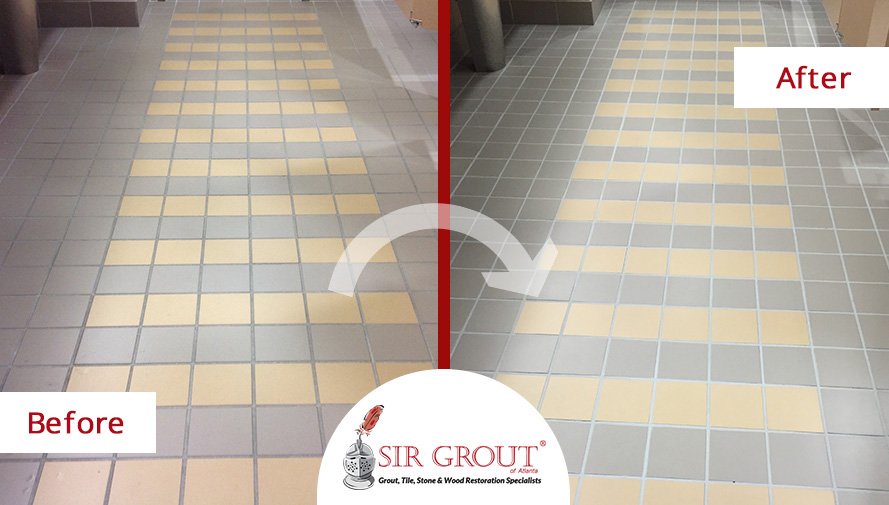 Once the job was finished, the results were noticeable. Both the hallway and bathroom floor looked pristine. Not only was the property manager very pleased with the results, but the building ownership team took notice and immediately inquired about additional services for other buildings in their portfolio. We performed the same services for the remaining office buildings. In just 4 days, we completed our grout cleaning and ColorSeal services for 48 bathroom floors! The property manager was certain that the renewed floors would make a good impression on potential buyers. She was right – in less than 60 days, all the office buildings had been sold. Now that this service has been completed throughout the 5 buildings, they only need to see us once a year for an annual maintenance. Since the job went so well, the property manager already hired us again to work in several other office buildings in the Alpharetta, GA area.
Cleaning and sealing grout lines not only improves the appearance of a floor, it also helps surfaces remain cleaner for much longer by keeping stains, dirt, mold, and mildew at bay, which is of extreme importance in areas such as bathrooms. So, it's easy to see why property managers choose this option as a way to improve their property's appearance at just a fraction of the cost it takes to remodel.
At Sir Grout Atlanta, we are constantly working on developing relationships with commercial property managers, as we see that office building floors – especially in the bathrooms – are in need of our special attention. If you think your commercial establishment might be in need of a grout cleaning and recoloring service, don't hesitate to contact us by filling out the form below or calling us at
(678) 251-2140
. To learn more about our services, don't forget to subscribe to our
newsletter
, like our page on
Facebook at Sir Grout Atlanta
, and follow us on
Twitter @SGAtlantaGA
and
Instagram @SirGrout
.