Elegance and Beauty: These Natural Stone Floors Are in Top Shape after Our Stone Cleaning Service in Dunwoody, GA
July 25, 2017
As lovely as it was, the owners wanted to enhance the elegance of their home, which struck us as one of the most beautiful houses we've worked on. The architecture, the design, and the décor were tastefully arranged, but something was missing for that flawless appearance they wanted. After analyzing all the details, the owners concluded that their beautiful and varied travertine floors needed to be revived; this would embellish the main rooms of the house. To achieve this, they set out to find the best quality
stone cleaning service in Dunwoody
.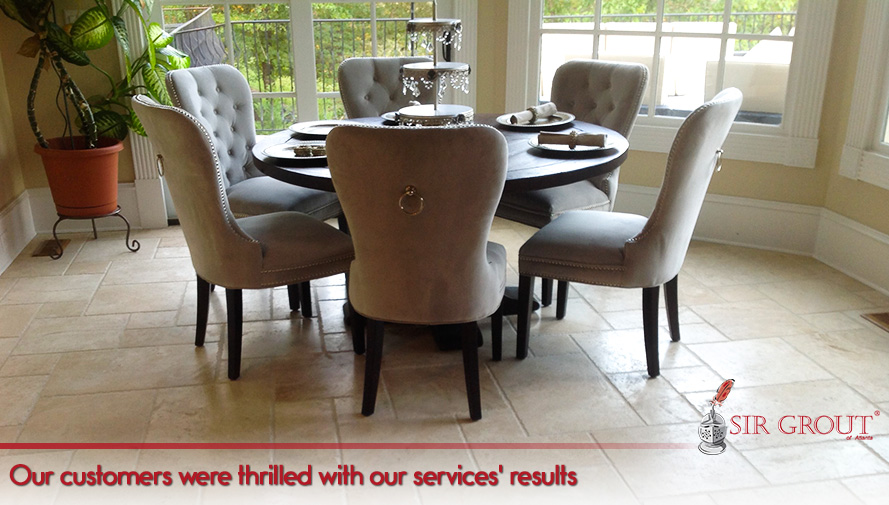 Travertine everywhere!
The areas of the house where we did the job had travertine in two different finishes: polished in the main foyer and the living room, and medium tumbled in the kitchen and the dining room. Travertine, a sedimentary rock, forms when pieces of broken rock transported by water undergo high temperature and pressure over long periods of time. It is an excellent choice for flooring because of its durability (comparable to marble in its Measurement of Hardness or MOH), its ability to withstand temperature changes (suitable to use indoors or outdoors), and its beauty (classic and elegant).
On a Sunday visit to their neighbor's house, our clients noticed the shiny elegance of the marble floors and backsplashes they had. They asked about the company that had done the polishing job. The neighbors explained that they had their marble surfaces honed and polished by us and that their expectations were exceeded with our skilled and helpful technicians and the quality of our job. Our clients looked no further and called us promptly to get a free in-home consultation.
On the day of the consultation, our clients welcomed us kindly in their stylish Dunwoody home. At first glance, such a nice house did not need much more to be perfect, but after inspecting the travertine floors of the main rooms, we agreed with the clients that a stone cleaning job would improve their appearance, and in turn, the appearance of the house.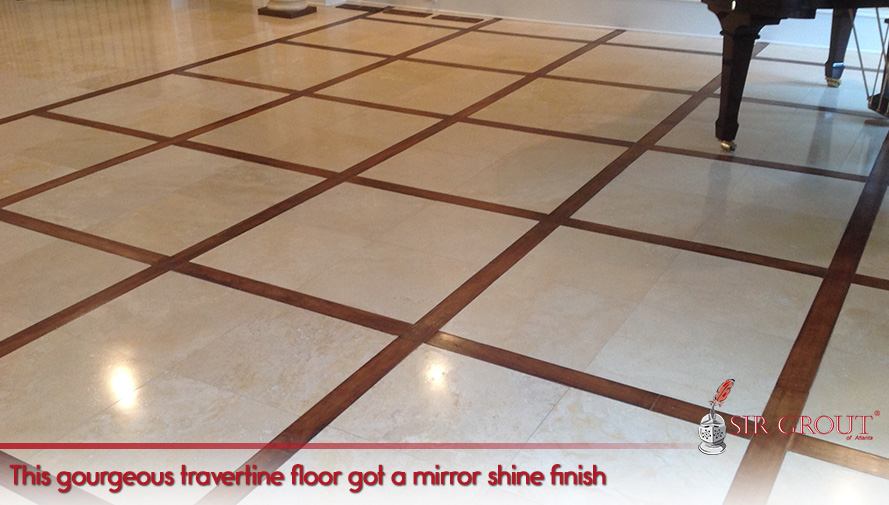 The main foyer
Guests are welcomed into this home by a beautiful garden, and stepping into the house they find an exquisite wrought iron door and tall columns. These elegant architectural accents already made this hall elegant and traditional. Additionally, the floor had a nice polished finish, but the owners wanted to emphasize the luxurious appearance in this important area, so they requested a honing and polishing service to bring out a mirror-like shine in the travertine. Before honing, we proceeded with deep cleaning, which is accomplished by using a machine and a high-quality pH-neutral cleanser and subsequently, a stone conditioner. Afterward, we honed and polished. For the former, high-grit diamond pads that wear off the superficial layer of stone to an even finish were used; for the latter, lower-grit pads that buff the stone to high sheen and smoothness were used.
The grand piano area
This is where guests are entertained. Keeping with the classic style, and looking for a luxurious finish, the soft travertine floor in this room was decorated with hardwood inlays. This flooring technique, called mixed media, consists of installing varied materials together—in this case, wood and travertine tile—creating a unique design. It was necessary to be careful with the wood inlays since this material must be taken care of differently from stone. Luckily, our technicians are highly experienced in working with this kind of flooring, with techniques that respect all the materials involved. The hardwood was masked off to avoid the contact of cleaners with the wood, which could lead to discoloration or other kinds of damage. To complement the classic look of this combination, we were looking to give this travertine a mirrored shine, so we honed and polished as described previously. To finish the procedure on the grand piano area floor, we applied Stone Armor—the proprietary Sir Grout impregnating sealer. This solvent-based sealant is the best protection for floors, because it penetrates the surface of the stone, protecting the floor from the inside and making it resistant to spills, stains, and water while making it easier to clean. The finishing touch was buffing, a procedure in which a pad is used to clean the floor of all dust and roughness, bringing it to a smooth finish.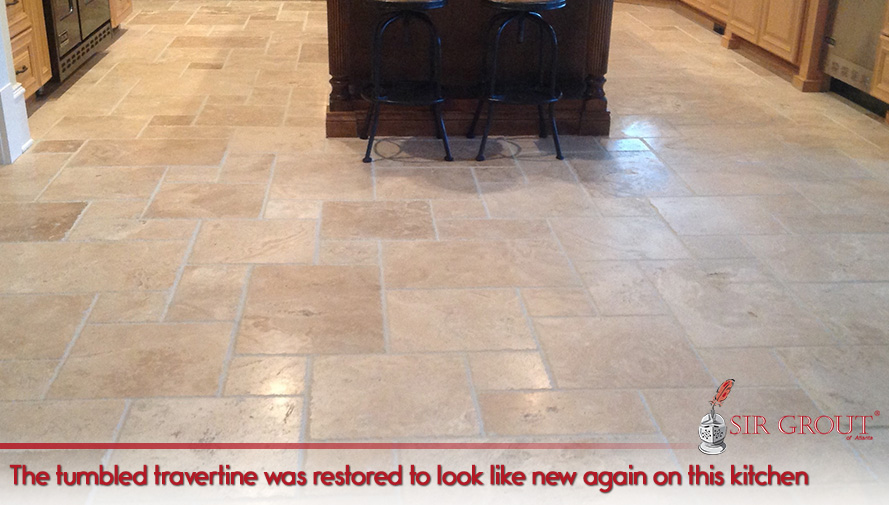 To keep the floors in top shape in both these areas, we advised our clients to sweep and vacuum their floors periodically, which avoids scratching and dulling that can be caused by dust and dirt. It is also important to clean the floors with a mop slightly damped in a special neutral cleaner, then dry them with a soft and dry mop. We told them that this should be done at least once a week. Additionally, we said it would be a good idea to place mats in high-traffic areas such as entrances and to adhere rubber or felt pads at the bottom of furniture to avoid the scratches that can result from any movement.
The dining room and the kitchen
The floors in both rooms were arranged in a French pattern, which consisted of multiple-sized tiles (the measurements are 8x8, 8x16, 16x16, and 16x24). The medium tumbled finish of these floors was distinctively rustic and had a weathered appearance that gave the rooms an elegant yet somewhat rugged feel at the same time. The floors had a beautiful neutral color, but they had lost some of the soft matte sheen that characterized them, and the grout was slightly stained from wear and tear. To buff these surfaces to a nice sheen, we honed the floor, then ColorSealed the grout in bright white for a crisp look. ColorSealing is the perfect choice to keep high-traffic areas such as these protected from water and stains, apart from making the task of cleaning considerably easier.
Caring for your natural stone
For extra care, we advised the clients to keep acidic substances that can be found in kitchens and dining rooms such as vinegar, lemon, and fruit juice, away from the floors.
The original style of this home was enhanced after these procedures on the floors; a stone cleaning and honing was just what it needed for a flawless appearance. The owners were absolutely delighted, not only with the results, but also with the experience and helpfulness of our technicians in every step of the process. These homeowners recommended us highly to relatives who needed some work done on their hard surfaces.
For perfectly renewed stone floors and surfaces and impeccable grout that will embellish your home, you can always count on Sir Grout. Request a free in-home consultation by filling in the form on this website and promptly get the repairs you need. Give us a call at
(678) 251-2140
, and don't forget to subscribe to our
newsletter
.
If you found this article helpful then let us know in the comments section below. Likewise, feel free to share it using the share options below. Want us to cover another topic of your interest pertaining to Hard Surface Restoration? If so, then like us and follow us on social media, and post to any of our social media profiles the topic you'd like us to discuss:
Facebook Sir Grout Atlanta
,
Twitter @SirGroutAtlanta
,
Instagram @sirgrout
, and
Google+ Sir Grout Atlanta