Don't Let Your White Shower Lose Its Charm! Here's How Our Expert Caulking Services Helped This Homeowner in Johns Creek, GA
June 21, 2017
Sometimes our daily grind can keep us so busy we forget little details that turn into bigger concerns later. It is understandable, since there is only so much we constantly have in mind. Take this for example: you're taking a shower in the morning, thinking about the tasks you need to accomplish that day, and fail to notice your damaged shower caulk. The thing is, after many showers—and many times failing to notice—most caulk will mold, dry up, peel, or crack, and this can lead to severe water damage and costly repairs. This is a rundown of what had happened to our latest client.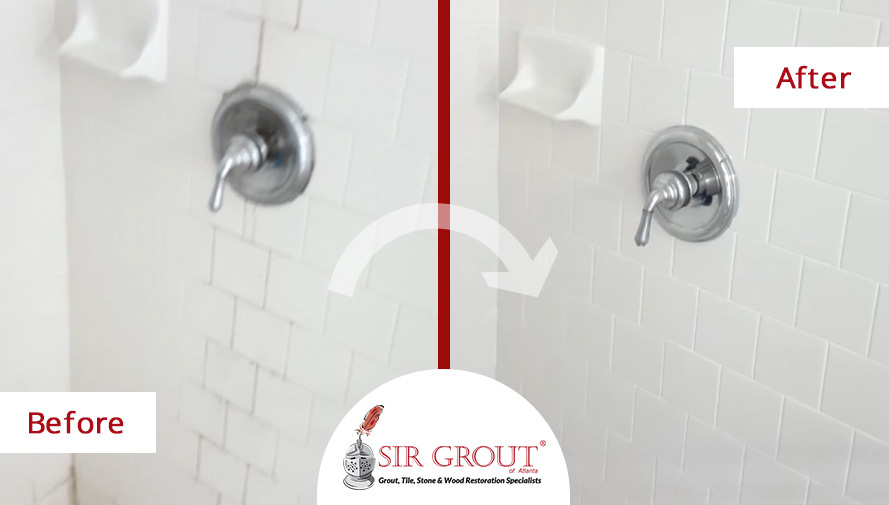 A homeowner from Johns Creek, GA, was concerned about her guestroom shower because it began to look dirty and moldy despite all her efforts. As she was expecting a visit from her in-laws in a few weeks, she considered it was necessary to look for professional help. Without wasting anymore time, she went online to look for
Johns Creek caulking services
that could restore the immaculate whiteness of her shower. She found Sir Grout Atlanta's website while searching on Angie's List for reliable local grout cleaners, and after noticing we had won a Super Service Award, she decided to try us out and signed up for a free in-home evaluation.
On the scheduled day, our crew arrived to assess the problem and offer the most effective solution. The lady greeted everyone and took them to see the guestroom shower. The problem was clear; the caulk had cracked and peeled, allowing water to seep, damaging the grout and creating the moist environment mold thrives in. Our experts suggested a complete re-caulking and grout cleaning service to get rid of the mold and return the shower to its usual state. After careful consideration, our client agreed.
A few days later our team of specialists arrived, ready to get the work done. The first step was applying our own soap-less cleaner on all dirty surfaces and rinse with a high-speed but gentle scrubber. To remove all mold and difficult stains, they also used a steam cleaner. Once the cleaning process was done, our team applied our proprietary Stainmaster Epoxy grout, known for its durability, on the shower joints to prevent future water damage while giving the shower a "like new" feel. To give a lasting finishing touch, our experts applied our signature Colorseal, an extremely durable water-based sealant that helps even the color on grout lines as well as prevent water and other damaging liquids from permeating through it, with the added bonus that it is also mold and mildew resistant.
When our team finished the job, they brought in our client to gauge her impressions. When she saw the pure white tiles, an audible "wow" escaped her. She profusely thanked the team, saying she was going to have them return when one of her bathrooms needed a facelift.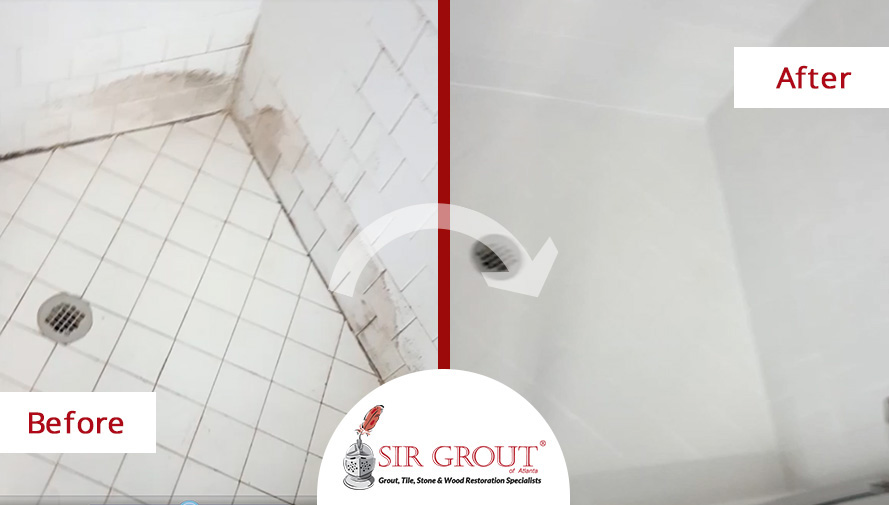 Before leaving, our technicians gave the lady some quick tips on maintaining her showers in peak conditions and make her results last longer. First, it is best to forgo regular soap and soap-based detergents when cleaning hard surfaces since soap leaves a sticky residue that attracts grime and stains tiles and grout quickly. A soap-less, pH neutral cleaner is preferred. Also, it is good to use a squeegee to dry the floors and sweep away cleaner residue. Keeping the bathroom well ventilated will also help avoid humidity related problems.
If you think your shower has seen better days and could use professional cleaning and caulking services, Sir Grout Atlanta is your best choice. Contact us at
(678) 251-2140
or fill out the "request a quote" form to set up an appointment with our team of expert technicians. If you want to learn more about the services we offer and get more tips on hard surface restoration you can follow us on
Facebook at Sir Grout Atlanta
, on
Twitter @SGAtlantaGA
and on
Instagram @SirGrout
.